Honey has always been around for a while and has always been used by many households around the world. It is used to make certain products. How can you benefit from CBD honey, though?
Experts think that if you want to maintain good health, CBD is one way to do so and the medical marijuana industry has embraced CBD honey.
CBD honey is a natural sweetener infused with hemp extract. The full-spectrum CBD hemp oil is extracted from the hemp plant, then infused into the honey. Edible products are many people's favorite way to take CBD. Rather than using an oil tincture or water soluble product, edible products are a tastier way to consume CBD.
Adding CBD honey to your routine can be a great way to increase wellness. Those who don't prefer the taste of CBD oil can take it with honey, covering the CBD taste with a sweet flavor. Plus, honey itself provides its own nutrients apart from CBD, so the combination of CBD and honey can help encourage wellness even further.
One of the products Nurture by Nature is excited to offer is our CBD Honey. Combining the beneficial attributes of raw, local honey and CBD creates a product that offers the best of both worlds, a tasty treat with a plethora of healthful applications!
You deserve to have the best tasting CBD honey in your pantry. Our CBD honey will provide the relaxation you're looking for at the end of a hard day. Add it to your tea, desserts, or just enjoy it all by itself. Every time you satisfy your sweet tooth, your body will buzz with positive vibes. All our honey is from a certified organic farm. So, be prepared to sweeten the day.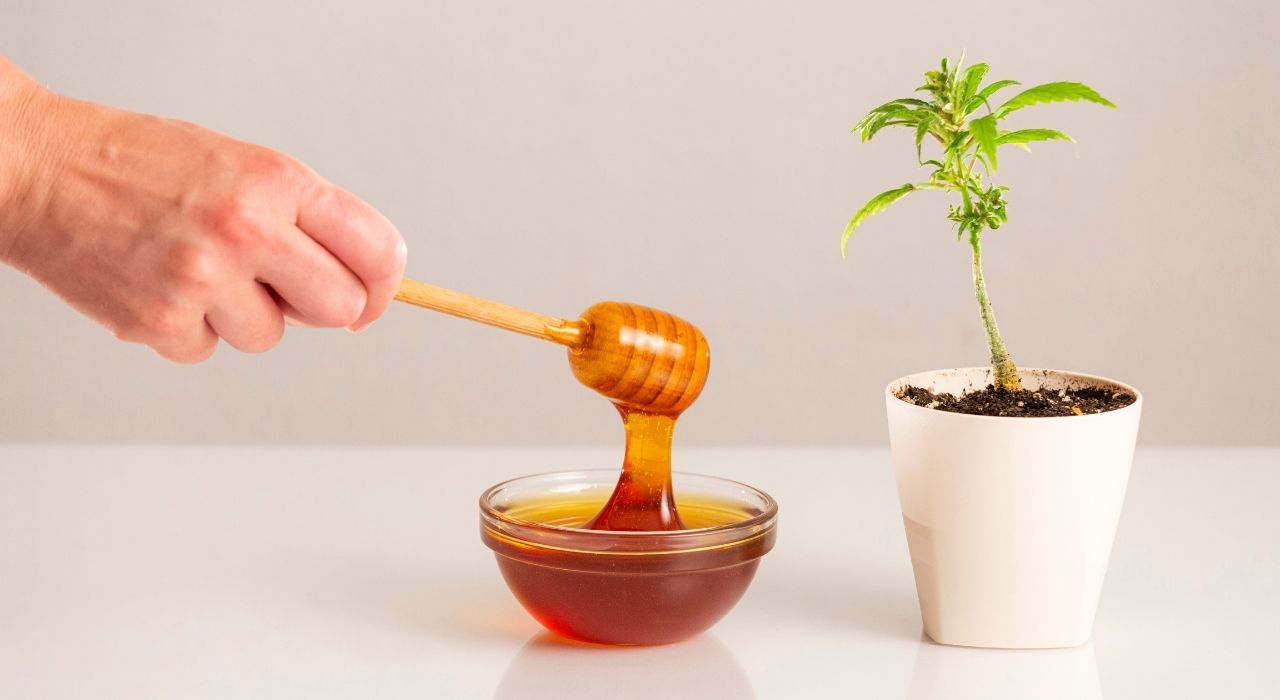 Nurture by Nature CBD Honey: Quality Bee-yond Compare
CBD honey is honey that has been infused with CBD oil. The highest-quality products combine CBD extracted from organic hemp with natural honey. The most effective ones use full-spectrum CBD, which contains all of the cannabinoids found in the cannabis plant.
That does mean there's a tiny amount of THC in full-spectrum CBD, but not enough to create major psychoactive effects or cause legal problems. You can buy CBD isolates (or honey containing them) which contain only CBD, but their medical benefits aren't as great.
Those in search of pain relief, help with anxiety or sleeping issues, or non-prescription treatments for everything from migraines to cancer, have found that CBD honey is a double-barreled solution that's both effective and delicious.
CBD honey is a great alternative for first time CBD users who don't like the flavor of the oil but still want all of the benefits that full-spectrum CBD has to offer.  We recommend starting with one to two teaspoons daily depending on the ailment being treated. Not a fan of honey? Many of our customers mix in a teaspoon with their hot tea or on a slice of toast to help mask the taste.
We offer competitive pricing and quality CBD products. Also, we take your privacy seriously and will take all measures to protect your personal information. Any personal information received will only be used to fill your order. We will not sell or redistribute your information to anyone.